We have visited over 60 cities in Europe and we have chosen our top 15 favorite cities for all types of tourists to visit. We chose the destinations based on three factors: budget friendly, ease to get there and landmarks.
1. Paris
Paris, France is our top one destination because it is so beautiful and romantic at the same time. You have a variety of activities to enjoy from shopping to museums to night shows to day touristing. It is also only a 30 minute train ride to the Versaille Palace. Paris is such a magic place.
2. Berlin
Berlin, Germany is full of history and it is the only european city we have visited that looks completely different. The reason for this is because after WWII the whole city got destroyed, so it has been completely rebuilt, which is why they have wide roads. We love the city because it not only has a lot of museums to visit but in every corner you will find history and memorials. Also, the majority of museums are free making it a budget friendly destination. It is also 40 minutes away from Potsdam, a beautiful city with beautiful palaces and gardens.
3. Prague
Who does not like fairytale towns? Well, Old Prague is like a fairytale. It is full of colors and beautiful buildings. The people are friendly and they have my one of my favorite dishes: Trdelník, a sweet pastry with ice cream inside. They also have Langose, a deep fried flat bread. Those two dishes are my dream come true.
4. Amsterdam
Amsterdam, Netherlands with its canals, thin tall houses and bikes make the landscape look gorgeous. Our favorite thing about Amsterdam is that people are open and friendly. It is a small city where you can walk everywhere.
5. Mykonos

Even if you do not like partying, Mykonos, Greece is still a beautiful island to visit. It has five white windmills near the beach where you can see a breathtaking sunset. The downtown is so beautiful with its white houses and colorful doors and windows. It also has beautiful beaches and amazing spots to scuba dive.
6. St. Petersburg
St. Petersburg, Russia was known as the Paris of the East. It is a beautiful place with a lot of palaces and beautiful bridges and churches. My favorite Russian Orthodox Church is the Savior on the Spilled Blood with its colorful domes. If you think the outside is gorgeous then go inside and you will be breathless, it is beyond beautiful.
7. Lagos
Lagos and Benagil, Portugal are the most beautiful beach towns I have ever visited. They have the most beautiful rock formations at the beach as well as crystal clear water. The only problem in Lagos is that the sand is not as good as the Benagil area, which is perfect.
8. Lisbon
If you have not tried Pastel de Nata before you have no idea what you are missing out. Lisbon, Portugal is a beautiful BIG city. There is so many things to visit and the fact it is located near water makes it an even better destination.
9. Budapest
I will say Budapest is a hidden gem. I never heard about this destination before I came to Europe. Honestly, it is worth visiting. It has two main hills that are quite a "hike" to visit, but it pays off with the view. My favorite places in the city are Shoes on the Danube Bank memorial, the Parliament Building and of course the fisherman's bastion.
10. Stockholm
Even though we got robbed in Stockholm, Sweden, it is a gorgeous city with a beautiful river and beautiful buildings. It was my favorite city of the Scandinavian Countries. Plus, you can visit the ABBA Museum, which is, of course, a must.
11. Venice
Nothing more romantic and beautiful that a city full of Italians and canals. Italians are known for their good mood and how friendly they are. Well, this city stands by it. Each corner is covered in art. You can spend the whole week there and not get tired. It is also 90 minutes away from Verona, the home to Romeo and Juliet's famed love story.
12. London
London, England is a chic and elegant city. There are many things to visit there but my favorite is the Beatles' Abbey Road, where the album cover photo was taken. Also, here is where you can get the perfect postcard photo in the red telephone booth.
13. Seville
If you like Flamenco and Moorish culture, Seville, Spain is the place to visit. Seville has a lot of Moroccan influence. All their streets are covered in beautiful mosaics and the lifestyle in Andalucia, its region, is more lively and friendly. People are open and try to make everyone feel they are at home. It is also a small city with a lot to visit.
14. Warsaw
Warsaw, the capital of Poland have a lot to offer. It is a city full of history and honor. Each street tells you the story of the Uprising in Poland and the occupation they had in WWII. When I visited Warsaw I felt proud. They rebuilt their city and made it look even better. They came back stronger. Even though the old town and the royal palace were completely destroyed, Poland rebuilt them in the same way and now it is a world heritage. Warsaw has many palaces and gardens that you can visit and some of them are for free in different days of the week. It also has a lot of museums.
15. Istanbul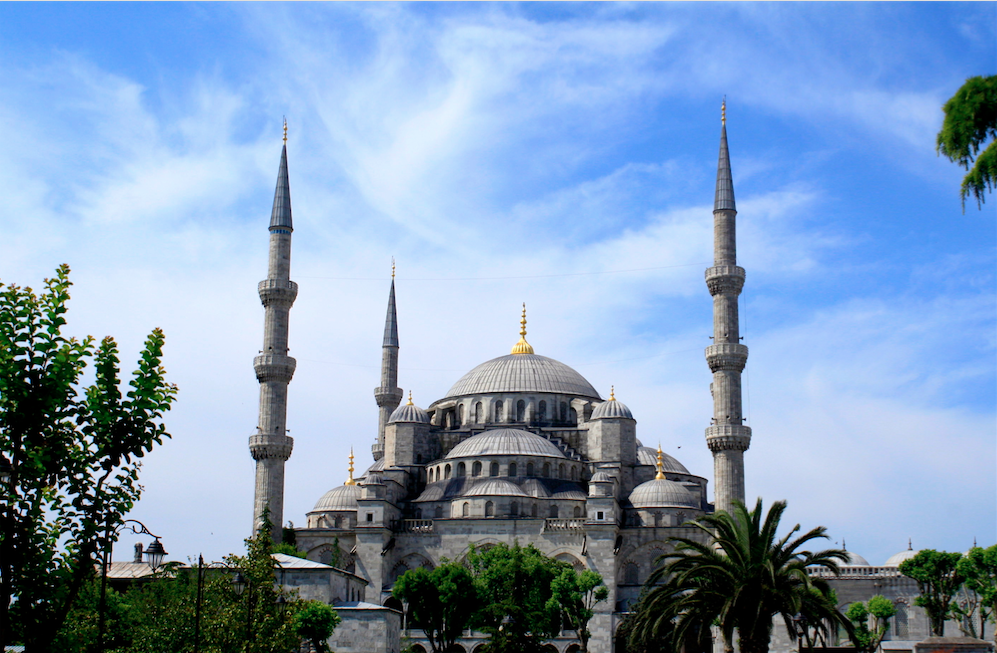 Istanbul, Turkey is a cosmopolitan city with a lot of landmarks. You need more than four days, just to get a glance of the city. The beautiful Mosques make the city a more interesting place to visit in Europe. The majority of citizens there are Muslim. My favorite spots in the city are the Blue Mosque and the Topkapı Palace.